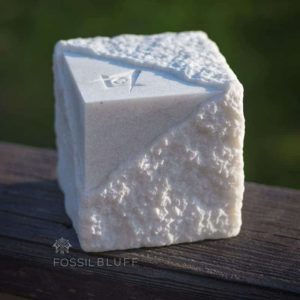 The Ashlar is the freestone as it comes from the quarry. The Rough Ashlar is the stone in its rude and natural state and is emblematic of man in his natural state – ignorant, uncultivated and vicious. But when education has exerted it's wholesome influence in expanding his intellect, restraining his passions and purifying his life, he then is represented by the Perfect Ashlar which, under the skillful hands of workman, has been smoothed and squared and fitted for its place in the building.
However, you will observe that the Rough Ashlar in a Masonic Lodge is not in its rude or natural state. It has been squared in a fashion, partially smoothed and has apparent strength and solidarity. It possesses all the qualities that could make it a perfect stone for use in the construction of the Temple, but it needs the hands and skill of the perfect Craftsman to bring about that result.
It represents the candidate for membership in a Masonic Lodge. Such an applicant is not in his rude or natural state, neither ignorant, uncultivated or vicious. Masonry does not accept men of such qualifications. The applicant by education and perseverance has fitted himself as a respectable man in his community, assuming full responsibility as a citizen, a churchman and a member of his family. There is a vast number of men in every community possessing such qualifications who are not members of a Masonic Lodge, and may never have the desire to associate themselves with the Ancient Craft.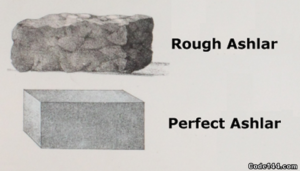 A man judges Masonry by the actions and manner of living of those he knows are members of the Order, but knows little or nothing of its teachings or objectives in the building of character. In that sense, he is in the crude state of the rough ashlar, possessing all the qualities or perfect material, but lacking the polish that comes from a continued study and practice of the great teachings of Masonry. Membership in a lodge does not make a man a Mason. He must apply his abilities to improving all in him that falls short of that high standard set by Masonry in character and citizen building. If he is satisfied with being a Master Mason in name only, he loses the benefits of further advancement and improvement offered by membership in the Order. In other words, he falls far short of anything that might be termed the Perfect Ashlar.